WELCOME TO DRALLE CHEVROLET BUICK GMC
Let us know how we can help you! Contact us at (815) 432-4948. 
THE DRALLE FAMILY OF AUTO DEALERSHIPS: A PROUD HISTORY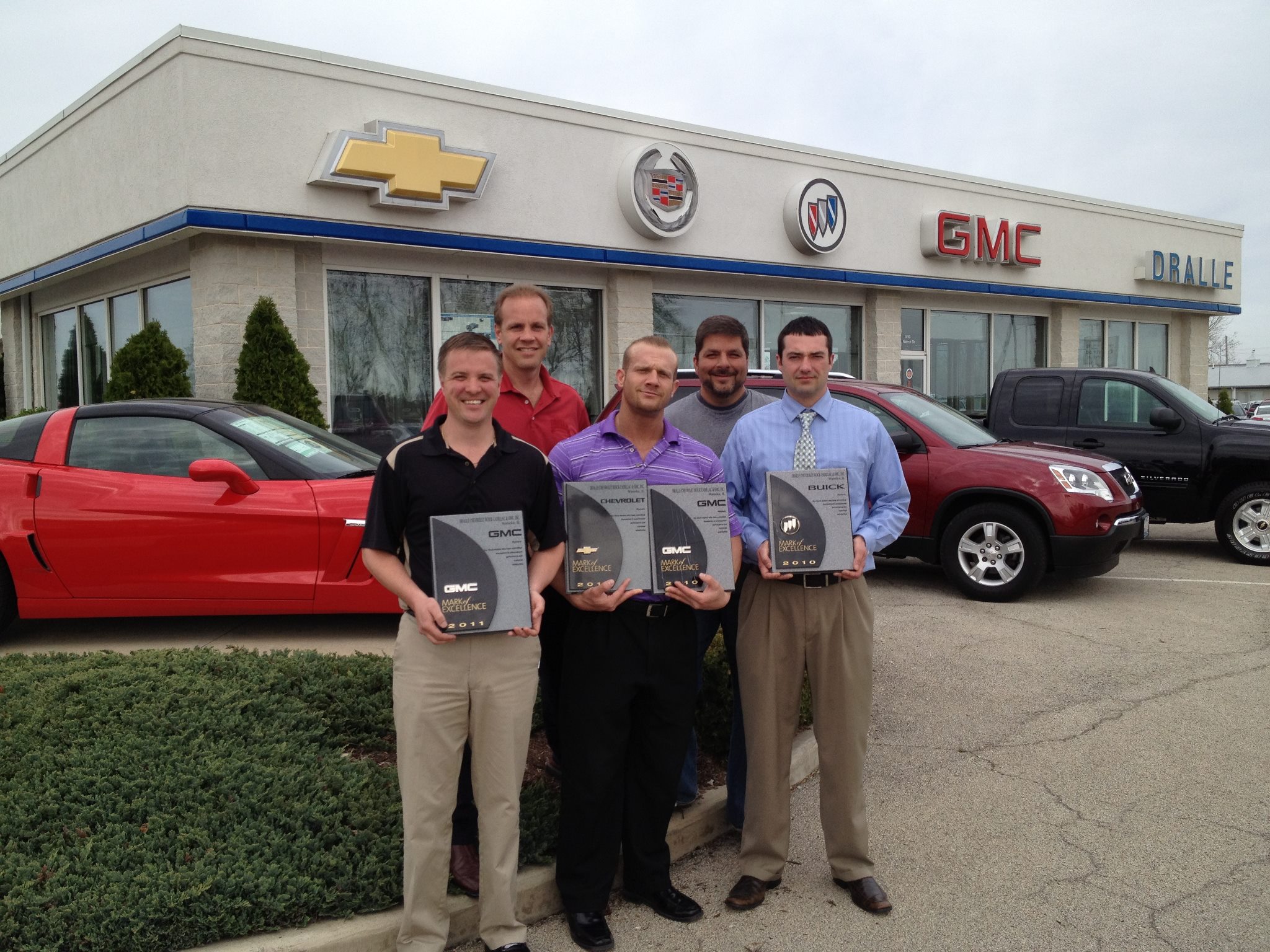 The Dralle family takes pride in being a locally-owned and operated business. For more than 60 years, neighbors in the Watseka and Peotone communities have turned to us for a trustworthy and attentive car buying experience. Our business thrives because we deliver the highest level of quality service our customers appreciate.
Our story starts with Dave Dralle, company founder and father of the Dralle brothers who currently own and operate the family's automobile dealerships.
Dave Dralle married his sweetheart, Irma Payne, 11 days after she graduated high school. They lived on the home farm for 17 years, where they raised their four sons. Dralle enjoyed operating the farm in Illinois, where he passed along his unwavering work ethic to his sons, who were active in 4H and the Future Farmers of America.
It seemed a natural extension of farming was to expand into selling John Deere equipment to other farmers throughout the area. Dave was a natural entrepreneur and his John Deere dealership was very successful. The experience opened the door for what became the family's destiny: cars.
Dave Dralle jumped at the opportunity to buy the Chevrolet Buick dealership in downtown Peotone in 1960. The business grew rapidly under his skilled management and with the help of his hardworking and honest employees.
At one point or another, everyone in the family has worked in the dealerships. Irma attended the GM School of Accounting and helped out by managing the company's books. Three of the couple's four sons - Dave Jr., Greg and John - worked their way up and now own dealerships in Watseka and Peotone. 
 In 1982, Dave Jr. and Greg teamed up to buy their Dad's business, Dralle Chevrolet and Buick in Peotone. Also, that same year, younger brother John began selling for his two oldest brothers.
In 1991, they expanded their operation to Watseka opening Dralle Chevrolet Buick with John as the General Manager. The business quickly grew, and John later expanded their presence in Watseka by acquiring the Buick Pontiac GMC franchises in 1996.
In 1999, a brand-new facility was built in what is now Dralle Chevrolet Buick GMC. And the next generation is entering the family business as well, with several of the late founder's grandchildren now working at the dealerships.
After selling to his sons, Dave Dralle returned to farming full-time. He passed away in 1992, leaving a tremendous family legacy.
The Dralles have successfully adapted to shifts in the auto industry over the decades, including economic downturns and major technological advances that changed the way people shop for and purchase vehicles. Technology revolutionized the industry as more people turned to the Internet to shop for - and compare - automobiles. Prior to that, people visited an average of seven car dealerships to "kick the tires" and compare cars and prices before making a purchase. Today, car buyers do most of their shopping before ever leaving home. The average buyer only visits 1.6 car dealerships before purchasing.
To adapt, the Dralle's have considerably changed their marketing approach to reach the online shopper. Check out
Shop. Click. Drive
, the most convenient way to shop online and order at home. They also have made significant investments to improve and modernize the look and feel of their facilities to ensure shoppers and owners who are in for service feel comfortable and welcome. The Dralle's value its community of owners, which is why the dealerships have so many repeat buyers from Watseka, Kankakee, Bourbonnais, and beyond.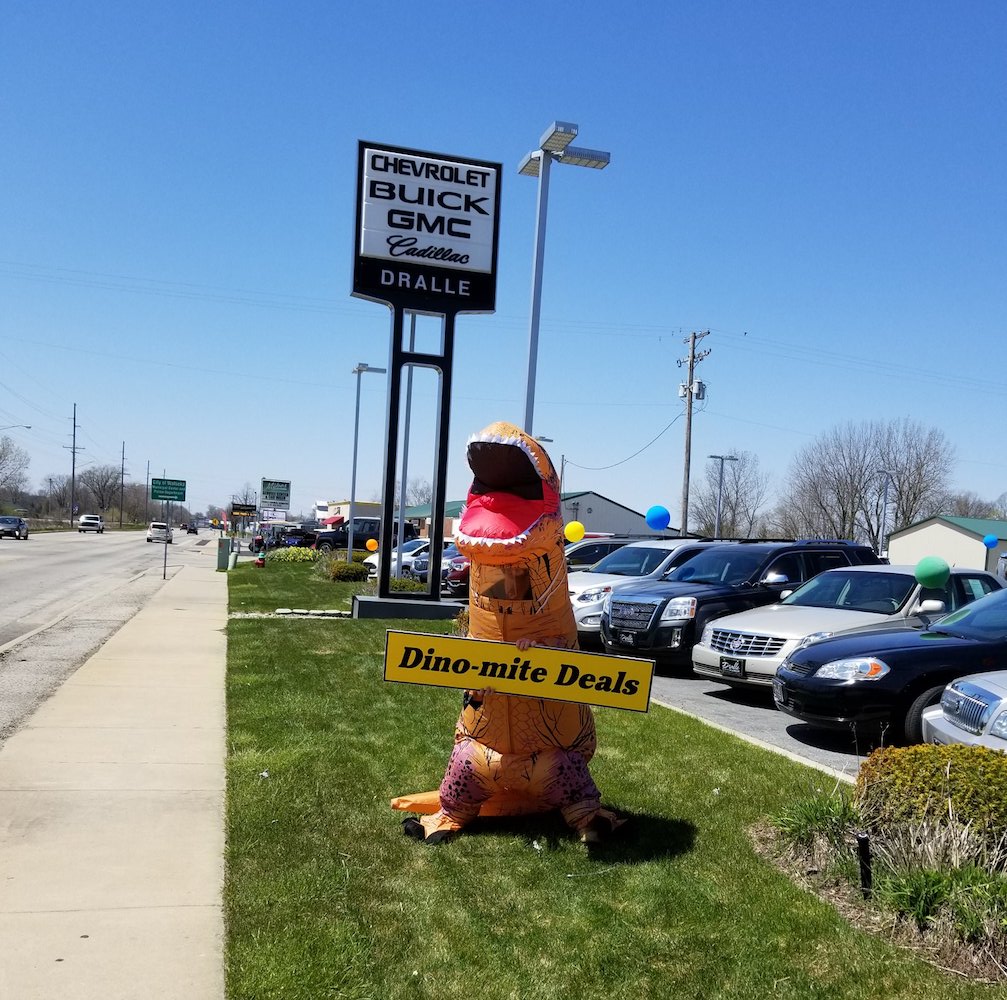 The business also survived and even thrived through difficult times, including the "great recession" in 2008. The Dralle family buckled down and cut expenses. Car dealers were in survival mode and many went out of business. The Dralle's sharpened their operational skills and emerged from the economic turmoil as better car dealers. They were ready to meet market demand when it returned.
Dralle's commitment to customer service garners many awards. Dralle is considered to be among the top dealers in the Greater Chicago area, having won awards for both sales and customer service. We are especially proud to been named top dealer and Buick's "Best in Class" ranking us in the top six percent of Buick dealers in the country, as well as winning the General Motors "Mark of Excellence" award many times over. 
Milestones
In 1950, David Dralle and his father Ed started a John Deere dealership in Peotone, in 1953.  
David Dralle and his wife Irma purchased the Chevrolet Buick dealership in downtown Peotone in 1960, establishing Dralle Chevrolet and Buick.  
The Dralle's constructed a new building on Route 50 to house the growing dealership and the John Deere business. The grand opening was in 1963. 
In 1973 sons Dave Dralle Jr. and Greg joined the business full-time, with Greg working in the service department and Dave Dralle Jr. in the sales department. 
By 1975 the car business was so successful the building could no longer house both the auto dealership and the John Deere business. Dave Dralle sold his share of the John Deere dealership and focused solely on the auto dealership. 
Sons Dave and Greg purchased the Peotone dealership from their father in 1982. They upgraded the interior and exterior of the building and expanded it to a nine-car showroom from a five-car showroom. 
Dave Jr. and Greg expanded to a second location in Watseka purchasing the Chevrolet Buick franchises, in 1991. John then expanded their presence in Watseka and acquired the Buick Pontiac GMC franchises, in 1996. By 1998, the three brothers combined the dealerships into what is now Dralle Chevrolet Buick GMC. 
In 1999, a brand new 18,000 sq. ft. facility was built in Watseka. This addition included a 2-lane Service drive and an eight-car showroom. 
In 2021 the Dralle brothers celebrated 30-years in business at their Watseka dealership.